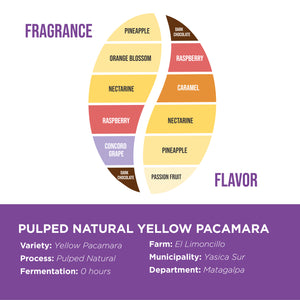 La Finca Distribution Corp.
Pulped Natural Yellow Pacamara • Fincas Mierisch
Sale price Price $1,026.00 CAD Regular price
34.5KG VP
$13.50CAD/LB
SCA SCORE: 87.5
TRACEABLE COFFEE INFORMATION
Lot Number: 017/215/47
Varietal: Yellow Pacamara
Process: Pulped Natural
Drying Method: Sun dried on beds
Moisture: 11.30%
Screen Size: 18-20 100%
Farm: El Limoncillo
Producer: Mierisch Family
Farm Region: Matagalpa
Country: Nicaragua
Year of Establishment: 2014
Farm Elevation: 1315 – 1400 masl
Number of Plots on Farm: 9 plots
Lot Size: 1 bags
Amount of Permanent Employees: 12
Amount of Temporary Employees During Harvest: 120
Cultivated Hectares: 76 hectares
Total Production of Green Coffee: 2,700qq
Typical Flowering Months: 1st March, 2nd April, 3rd Mid-May
Typical Harvesting Months: December – March
Pick date of this lot: 06/01/2020
Wet Mill on Site? No, shares one with our other farm that is right next to it, Mama
Mina.
Dry Mill Name/Location: Beneficio Don Esteban, Matagalpa (45 min away)
Cupping Notes: Dark Chocolate, Raspberry, Caramel, Nectarine, Pineapple, Passion Fruit
SHIPMENT INFORMATION
COUNTRY OF ORIGIN:

 
NICARAGUA

PORT OF ORIGIN:

 
CORINTO

PORT OF ENTRY:

 
VANCOUVER

EXPORTER:

 
COOP MULTISEC. SOLIDARIDAD

IMPORTER:

 
LA FINCA DISTRIBUTION
VESSEL: 
CMA CGM BALBOA Voyage 0YL4FS, 

MSC JAPAN

 

Voyage GX236A
CONTAINER NUMBER:

 
MSMU4000617
B/L:

 
MEDUM8058833

SEAL NUMBER: 
EU22532961
Contact Us for green coffee inquiries.
Varietal Information
The Yellow Pacamara is a natural mutation of the Red Pacamara (a cross between a Maragogype and Pacas). We first discovered this yellow maturing varietal on our farm El Limoncillo around 2004. We re-planted some seeds from these initial trees and from there have grown this varietal in our other farms as well. This varietal requires more food (fertilizer) than other varieties, about 20% more when compared to a Bourbon or Caturra, and requires soil that is rich in magnesium, zinc, and potassium (which La Huella is generously endowed with). It is also a varietal that is susceptible to diseases and does not produce a large yield. Despite these disadvantages, this varietal produces a spectacular cup profile. Fruitier and more citric than its red maturing cousin.