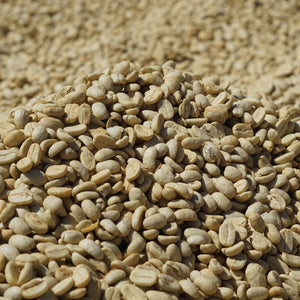 La Finca Distribution Corp.
Maracaturra Washed • Byron Corrales
Sale price Price $866.32 CAD Regular price
69KG Ecotact
$4.25USD/LBx1.34 conversion

$5.70CAD/LB
SCA SCORE: 87
TRACEABLE COFFEE INFORMATION
Lot Number: 017-215-13V
Varietal: Maracaturra
Process: Washed
Fermentation Time: 8 hours
Drying Method: Sun dried on beds
Drying Time: 18 days
Moisture: 12.08%
Defects: 0.80 (0.33%)
Screen Size: 18-20 100%
Farm: Los Pinos
Producer: Byron Corrales
Municipality: Aranjuez
Department: Matagalpa
Country: Nicaragua
Elevation: 1,450 MASL
Cupping Notes: Sweet, Floral, Buttery
SHIPMENT INFORMATION
COUNTRY OF ORIGIN:

 
NICARAGUA

PORT OF ORIGIN:

 
CORINTO

PORT OF ENTRY:

 
VANCOUVER

EXPORTER:

 
COOP MULTISEC. SOLIDARIDAD

IMPORTER:

 
LA FINCA DISTRIBUTION
VESSEL:

 
MSC SARA ELENA / MC029A
CONTAINER NUMBER:

 
MEDU5630197
B/L: MEDUMA056362
SEAL NUMBER: EU19086838
 
Contact Us
for green coffee inquiries. 
Don Byron Corrales's washed process begins at 230pm. These Maracaturra coffee cherries are picked at 21-25 brix degrees and are pulped using hydroelectricity generated by the water from the natural reserve. After the Maracaturra has been pulped, it is left in the channels to ferment for 8 hours. The Maracaturra is trucked to the dry mill after fermentation and is placed on raised drying beds. This washed Maracaturra is dried for 18 days, down to 12%-11% moisture. Once achieved, it is bagged and stored in parchment for 30 days of rest. After 30 days the coffee is
milled, sample roasted, cupped
and scored and then placed back to rest for another 15 days. The first Maracaturra samples are shipped out after 45 days of rest.
Export

$0.10USD
Farm Gate Price

$3.20USD
Ocean Freight



$0.13USD
Import
$0.10USD
SCA Score

85/100
Lot Size

152lbs
Relationship

2 year
Workers in Season

70-80