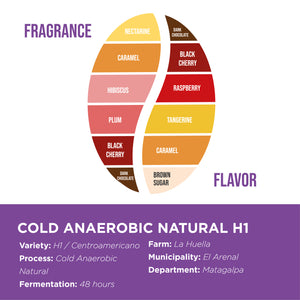 La Finca Distribution Corp.
Cold Anaerobic Natural H1 • Fincas Mierisch
Sale price Price $760.00 CAD Regular price
34.5KG VP
$10.00CAD/LB
SCA SCORE: 87.75
TRACEABLE COFFEE INFORMATION
Lot Number: 017/215/47
Varietal: H1 or Centroamericano
Process: Cold Anaerobic Natural
Fermentation Time: 46 hours
Drying Method: Sun dried on beds
Moisture: 10.60%
Screen Size: 15+ 100%
Farm: La Huella
Producer: Mierisch Family
Farm Region: Matagalpa
Country: Nicaragua
Year of Establishment: 2014
Farm Elevation: 1315 – 1400 masl
Number of Plots on Farm: 9 plots
Lot Size: 1 bags
Amount of Permanent Employees: 12
Amount of Temporary Employees During Harvest: 120
Cultivated Hectares: 76 hectares
Total Production of Green Coffee: 2,700qq
Typical Flowering Months: 1st March, 2nd April, 3rd Mid-May
Typical Harvesting Months: December – March
Pick date of this lot: 06/01/2020
Wet Mill on Site? No, shares one with our other farm that is right next to it, Mama
Mina.
Dry Mill Name/Location: Beneficio Don Esteban, Matagalpa (45 min away)
Cupping Notes: Dark Chocolate, Black Cherry, Raspberry, Tangerine, Caramel and Brown Sugar

SHIPMENT INFORMATION
COUNTRY OF ORIGIN:

 
NICARAGUA

PORT OF ORIGIN:

 
CORINTO

PORT OF ENTRY:

 
VANCOUVER

EXPORTER:

 
COOP MULTISEC. SOLIDARIDAD

IMPORTER:

 
LA FINCA DISTRIBUTION
VESSEL: 
CMA CGM BALBOA Voyage 0YL4FS, 

MSC JAPAN

 

Voyage GX236A
CONTAINER NUMBER:

 
MSMU4000617
B/L:

 
MEDUM8058833

SEAL NUMBER: 
EU22532961
Contact Us for green coffee inquiries.