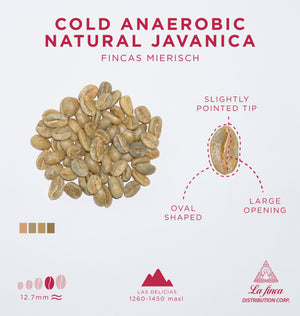 La Finca Distribution Corp.
Cold Anerobic Natural Javanica • Fincas Mierisch
Sale price Price $1,037.40 CAD Regular price
34.5KG VP
88 SCA SCORE: 
TRACEABLE COFFEE INFORMATION
Lot Number: 
Varietal: Javanica
Process: Cold Anaerobic Natural
Fermentation Time: 48 hours
Fermentation Temp: 6-10°C
Drying Method: Sun dried on beds
Farm: Las Delicias
Producer: Mierisch Family
Farm Region: Jinotega
Country: Nicaragua
Dry Mill Name/Location: Beneficio Don Esteban, Matagalpa (45 min away)
Cupping Notes: 

Concord grape, Cherry, Plum, Apricot, Mango, Peach, Cacao nibs
SHIPMENT INFORMATION
COUNTRY OF ORIGIN:

 
NICARAGUA

PORT OF ORIGIN:

 
CORINTO

PORT OF ENTRY:

 
VANCOUVER

EXPORTER:

 
COOP MULTISEC. SOLIDARIDAD

IMPORTER:

 
LA FINCA DISTRIBUTION
Contact Us for green coffee inquiries.